TEACHING IN LANGUAGE SCHOOLS IN JAPAN – THE FASTEST WAY TO LEARN JAPANESE (part 1)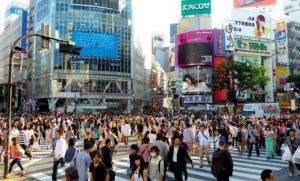 Getting a prestigious job, knowing the Japanese language, is not so difficult. But where is it better to learn Japanese and where to start?
Oriental languages ​​are becoming more popular every year. It concerns not only Asian countries, but also European territory. Despite its exoticism, Japanese, once considered very complex, now has a huge number of fans around the world.
WHY JAPANESE BECOMES POPULAR?
The popularity and relevance of any language is associated with the need for communication. There are many languages ​​and dialects in the world. An extremely limited and small number of people communicate on some of them, while others are actively developing on all continents, while still others are considered dead. This is due not only to the population of a certain language region or country as a whole, but also to the level of scientific and economic development and the activity of international relations of the corresponding state.
Some people compare the Land of the Rising Sun with a real center for the development of scientific technologies in almost all areas of life, and especially in the field of artificial intelligence, computer technology and medicine. Japanese companies have long taken a leading position, and their representative offices are in almost all countries of the world. Technologies in the field of medicine are actively used in leading clinics.
Such a scientific breakthrough in Japan became the key to the relevance and language of this country. Now knowledge of Japanese is a sure way to professional success and demand in the labor market. Thus, building your own successful career in developed companies, research institutes or working in any other prestigious institution has become impossible without knowledge of Japanese.
HOW TO LEARN A SO DIFFICULT LANGUAGE?
Many of us have heard Japanese speech since childhood. We are talking, of course, about anime, Japanese cartoons, which we fell in love with from an early age. The unknown foreign speech behind the scenes was interesting for us, but still incomprehensible.
Indeed, Japanese is considered difficult. Studying it is a painstaking and complex process. It is especially problematic to learn it in the CIS countries. This is mainly due to the shortage of teachers and orientalists. Mostly teaching is carried out in universities at specialized faculties, but Japanese is rare in general educational institutions. True, you can sometimes find courses, but they are also conducted most often only in large cities.
Often, the study takes place independently, using certain online resources. But such a method is ineffective. Faced with the first problems, for example, a lack of understanding of grammar, students abandon this venture, believing that the language spoken by the ninja and geisha is beyond their power.
In fact, a properly organized educational process, with a clearly developed calendar and program, under the guidance of native speakers, proves that Japanese is not such a difficult language. The main thing is the right approach to learning.
TRAINING IN A LANGUAGE SCHOOL – THE BEST WAY TO LEARN A FOREIGN
For Russians, as well as for other nationalities living in the CIS countries, the Japanese language, with its complicated grammar, seemingly sophisticated phonetics, and even more complex alphabet, has become something exotic and incomprehensible. But such a perception is erroneous. The myth of the mega-complex process of learning this language is successfully dispelled by the results of students who decided to take a course at a school in Japan.
Unlike studying the language of the Land of the Rising Sun in a Russian-speaking environment, obtaining knowledge by this method makes it possible to completely plunge into the language atmosphere. But this is not a major plus. The main advantages of such an education include:
the opportunity to acquire knowledge relatively cheaply;
homestay, i.e. round-the-clock stay in a language atmosphere;
friendship with the Japanese, providing real live communication;
independent choice of not only schools, but also programs;
the possibility of part-time employment already during training;
the possibility of entering one of the universities in Japan after mastering the language.