FEATURES OF REGISTRATION OF A TOURIST VISA TO JAPAN (part 1)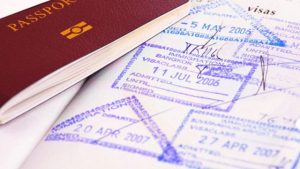 Didn't you dream to go to Japan, seeing on the TV screens incredibly beautiful geisha dressed in amazing kimonos? And what are Japanese anime series worth, weren't they a kind of magnet attracting you to go to the Japanese islands?
Undoubtedly, this country has always been a mystery to many, distant and incomprehensible, but now that the visa application procedure has changed, admiring sakura or seeing the snow caps of majestic Fuji has become much easier.
CHANGES TO THE RULES FOR GETTING A VISA TO JAPAN
A couple of years ago, traveling to the Japanese capital was problematic due to the complicated procedure and conditions for obtaining a Japanese visa. But last year, much has changed. The Japanese government has set a goal: to attract as many tourists and foreign workers as possible. To implement the planned program, it was decided to simplify the procedure for obtaining approval for entry, thereby allowing more foreign citizens to enter the country.
Tangible changes affected the receipt of a tourist visa for Russian citizens. This is a significant reduction in the amount of necessary documentation and a more loyal attitude of the Japanese consulates to the Russians.
Visa facilitation applies to travelers traveling to Japan for tourism. Therefore, it is best to purchase a package tour, so getting a visa will not cause any difficulty.
Such a move was effective, and thousands of tourists rushed to the distant islands, where the sun rises. The tourist boom has led to an increase in attempts to illegally enter the country. For example, some citizens tried to enter as tourists, although they actually planned to get a job in Japan. That is why the authorities are especially scrupulous about visa documents and information contained in applications and questionnaires.
TYPICAL ERRORS WHEN APPLYING FOR A JAPANESE VISA – HOW TO AVOID THEM?
To get a visa for the rest, many apply directly to the representative offices of Japan, for example, in St. Petersburg, but often they are refused or sent to finalize documents. There can be many reasons why a visa can be refused or a tourist can be sent to correct or clarify documents, the most common include:
Errors in filling out the questionnaire
Providing false or incomplete information
Fake documents
Tourists are attracted by the information posted on many sites about the simplicity of obtaining permission and an insignificant package of documents, while they forget that it is important to fill out everything correctly. That is why most often foreigners turn to specialized companies that are ready to help get a visa to Japan.
PACKAGE OF DOCUMENTS FOR OBTAINING A VISA TO JAPAN
The simplification of the procedure for obtaining a Japanese visa is expressed, among other things, and in reducing the number of necessary documents, the preparation of which previously required a lot of time.
The list of documentation that will have to be prepared is really not large. In fact, it is limited to the following:
photos of the established format;
traveler profile;
application from a tourist;
confirmation of the purpose of the trip;
international passport.
It would seem that the list of documents required in order to obtain permission to enter Japan is small, and therefore they can be collected practically in a day, however there are some nuances that need to be closely monitored.
Take a look at your passport, check when it expires.
Correctly fill out the questionnaire, without which no one will simply give a visa.
It is important to justify the purpose of the trip, which is why it is best to apply to visa companies with a high credit of trust.
Such travel agencies, not arousing suspicion of the Japanese authorities, include those that are registered in Japan and occupy a strong position in the Japanese travel services market. This is also our company Tabitabi.ru.
Our experts know are familiar with all the intricacies of visa support. With our help, you will not only promptly apply for a visa, we will help you plan your vacation, choose places that are worth visiting and organize a vacation in any corner of Japan.
Particular attention should be paid to the fact that now you do not need to pay a consular fee for permission to enter Japan – it is free for Russian citizens. The absence of a consular fee is an additional opportunity to save.
If you apply to third parties, which are travel agencies, you must pay for their services for organizing visa support. The cost usually varies between 100-150 US dollars. Additional costs include the cost of shipping documentation. Sending documents most often takes place in cases where a tourist draws up documents in absentia, which, incidentally, is very convenient, because you can significantly save time and finances, because you do not need to spend money on a trip to the consulate.
Now it's not only more interesting, but also beneficial to relax with a fun company of friends, because a group trip is not only an opportunity to save, but also the reason why the registration process itself is simpler, and sometimes even faster.