FOR LOVERS OF FLOWERING SAKURA! SPRING NEWS FOR HANAMI AND NOT ONLY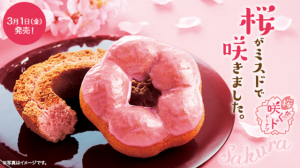 Continuing the theme of sakura blossoms, we want to share with you the sweet novelties of the season, which you should definitely try yourself and bring your friends as a gift.
DONUTS WITH TASTE OF SAKURA
Mister Donut is one of the most popular donut chains in Japan, and since March 1, they have released six sakura-style donuts. Three – in the form of sakura petals with various types of glaze and toppings from pink sakura, fried soy and azuki. And if Japanese tastes do not really interest your imagination and taste buds, try three donuts in a classic style – with ordinary sakura, chocolate and honey.
If you are one of those people who do not just want to try a tasty treat, but also leave something for themselves as a keepsake, then the novelties from Starbucks are perfect. Each year, the company launches a new line of kawaii cups and glasses dedicated to flowering sakura. This year, Starbucks pleased the Japanese with a new collection called "You Are Here Collection".
The assortment of charming pink cups is very diverse, so it's not so easy to decide what exactly to buy. One thing I can say, the torment of choice is worth it, because you will not find anywhere such cute little things, except in Japan.
DON'T FORGET THE LIMITED SEASONAL ISSUE OF FAMOUS JAPANESE BEER
Further on our list is not so much sweet and not quite a present, but what no khans can do without is the famous Asahi Japanese beer. Every spring, Japan's number one popular beer company releases new items in a festive pink design adorned with sakura flowers. And since they started this tradition in 2015, Asahi Beer sales have further increased.
If you are going to celebrate the arrival of spring, why not make it stylish and tasteful? Asahi beer can be bought at any local combination or in a supermarket.
AMAZAKE WITH TASTE OF SAKURA
What is amadzake? This is a soft drink made from fermented rice. It is full of minerals and vitamins, it has a beneficial effect on digestion and is generally considered beneficial for health. And, in secret, I'll tell you, this is a great hangover remedy that any Japanese will recommend to you. An ideal choice for those who could not resist and tried too hard to try the new Asahi Beer.
Over the past few years, amadzaké has created a real boom in Japan. It can be found almost anywhere, wherever you go – in markets, in street food tents, in combi and supermarkets, this healthy drink is sold everywhere. There are several different flavors of amadzaké, but since it is spring, we recommend that you try sakura-flavored amadzaké.
Enjoy and have fun with the hans!