TOP-4 PLACES WHERE IT IS TO GO FOR WINTER (part 2)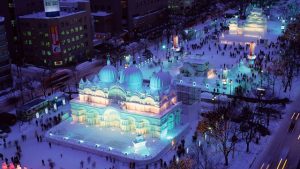 As the festival developed, in addition to creating snow sculptures, other types of entertainment were added: concerts, food stalls, art exhibitions and ice-skating, cheesecake and snowmobile platforms.
If you go to Sapporo for a few days, be sure to take a stroll through the Odori park, which is the main venue of the snow festival, climb to the observation deck on Hitsujigaoka Hill, which offers a magnificent view of the city. There is a statue of William S. Clark, the first vice director of the Sapporo Agricultural School (now Hokkaido University).
We also recommend visiting the Sapporo Clock Tower, built in 1878, and the Nijo Fish Market, which occupies an entire quarter of the city. There you can taste the sea of ​​delicacies.
After a seafood lunch break, head to the only beer museum in Japan. Founded in 1878, the Sapporo Beer brand is the oldest beer brand in Japan. The museum is located in a building of 1870, built of red brick. The building used to be part of the Sapporo Brewery (until 1965). It was renovated and opened as a museum in 1987.
Sapporo Attractions:
Odori Park
Nijo Fish Market
Beer museum
Clock tower
Important information!
Due to the festive excitement and lack of rooms in hotels and ryokans, you can face a serious surcharge for single occupancy in the room.
In the northern part of Japan it is very cold at this time of the year, so when going on a tour to Japan for the New Year, it is important to take warm clothes and durable boots suitable for walking on ice and snow.
Hokkaido snow festivals usually take place in February.