19 THINGS YOU CAN'T DO IN JAPAN (part 1)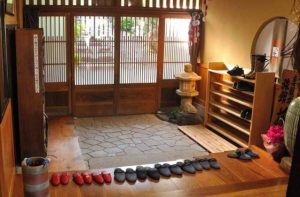 Before heading to Japan, it would be useful to familiarize yourself with some cultural features in order to avoid insulting the feelings of the Japanese. Manners and social rules are not universal, and it is easy to make a mistake if you do not know the customs of the country. The Japanese are reserved and polite, so tourists often do not even realize that they insult any of the locals. To help you understand the customs and traditions of the Land of the Rising Sun, we decided to introduce you to 19 rules that must be followed while in Japan.
1. REMOVE SHOES BEFORE ENTERING THE HOUSE
Let's start with a simple one. Most people know that in Japan you need to take off your shoes before entering the house. This is a reasonable and familiar requirement for us. The Japanese do not like dust and dirt from the streets to be brought into the house. Most houses have a small lobby called the genkan, where you need to take off your shoes and put on slippers (slippers for guests are often available). Please note: these slippers should be removed and left in the same socks when you enter the room with tatami.
2. DO NOT FORGET ABOUT Slippers for the toilet
The Japanese have a special set of slippers for the toilet. They are often decorated with the corresponding word or pattern, so that it is clear what they are intended for. Just take off your slippers and put on your slippers. After visiting the toilet, slippers should be changed. It sounds simple, but only at first glance. Quite often, tourists who come to rest in Japan forget to change their toilet to slippers. But most Japanese people are quite loyal to this cultural difference and do not pay much attention to the curious behavior of forgetful tourists.
3. DO NOT STAND IN THE NEXT CAB
For tourists coming to rest in Japan from the former Soviet Union, a queue to the toilet cubicle is quite commonplace. In Japan, the queue system is slightly different. Each person stands in front of a random booth and enters it when it is released, regardless of whether someone expects even longer. For foreign tourists, this behavior of the Japanese may seem like a manifestation of bad manners, but in fact this is the norm for Japanese society. This is why some tourists call the toilet a lottery.
4. DON'T LOOK FOR WESTERN TOILET
If you are lucky, you may encounter one of those high-tech wonderful Japanese "thrones" with a control panel that warm the seat, dry, eliminate odor and play the melody. Some toilets even measure blood pressure. However, at some point on the next excursion, tourists must encounter traditional Asian toilets with a floor toilet. Of course, if you visit Western restaurants, live in hotels in large cities during a trip to Japan, it is quite difficult to meet a traditional Asian toilet. But if you go on a trip to Japan, especially in small cities, you can find floor toilets, which are a hole in the floor. Moreover, such toilets are quite typical in Japan, moreover, they are the norm for the Japanese. Please note: in traditional toilets, toilet paper is usually not provided, so always have a pack of napkins in your pocket.
5. DO NOT TAKE A BATH DIRTY
This may seem illogical, but a bath in Japan is not taken to cleanse the body. Bathtubs are designed to relax after being washed, for example, in a shower adjacent to the bathtub. Several people can bathe in the same hot water, so it's better to be clean before plunging into a shared bath. This is a blissfully relaxing procedure, and not an ordinary wash, as some foreigners think.
6. DO NOT DRINK AND DO NOT EAT WHILE WALKING
Unlike Western countries, where people constantly chew on the go, the Japanese prefer to stop and eat in a relaxed atmosphere. Perhaps this has something to do with their respect for food, because quite often many Japanese people start eating with prayer. Some believe that the reason that the Japanese do not like to eat on the go is much more commonplace: they simply do not want to get dirty. Whatever the reason, tourists will not see the Japanese drink and have a snack while walking along the streets, so it's better for you to adhere to the same unwritten rules. Even street food, vending machines and fast food deserve to take a break and eat while sitting or standing.
7. DO NOT FILL RICE WITH SOY SAUCE
Rice is the main starchy product in Japan, and small plates with sticky white grains are served for breakfast, lunch and dinner. However, contrary to Western tastes, the Japanese do not season rice with soy sauce. Locals will look with horror at a tourist who has come to rest in Japan if he adds salty sauce as a seasoning. Rice is designed to balance the tastes of other dishes on the table. If necessary, you can dip a piece of rice in a small bowl with soy or other sauce to give it a flavor. But in no case should you pour soy sauce in a bowl of rice.