AKIKHABAR – SOME MORE THAN JUST TOKYO TOURISM QUARTER (part 1)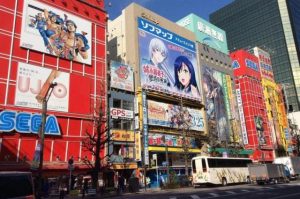 Akihabara has long been a real mecca for lovers of manga and anime. There are many places where you can have a good time, and some are attracted by the opportunity to take a walk on a Sunday (when the central road is closed) and see the shelves of shops where interesting goods are on display – from hand-made products to modern electronics.
But Akihabara is more than just a tourist area of ​​the Japanese capital. There are many interesting and colorful establishments here – antique shops and modern shopping centers, restaurants and small cozy cafes, modern clothing stores and second-hand departments.
We will get acquainted with some interesting corners of this area to get directions for our next trip.
DRINK COFFEE IN MAIDO CAFE
Madeo Cafe is a network of cafes, the name of which literally translates as "cafe with maids." These cafes attract a lot of foreign tourists to Akihabara, because you will not find this anywhere else. Hundreds of charming girls in maid costumes are distributing leaflets and booklets with cafe advertisements right on the street – these are all the workers of the maid cafe, which cause real delight among foreigners. Inexperienced tourists are better off knowing that taking pictures of pretty maids is better with their permission, as sometimes they don't really like it.
It should be noted that the "Cure" cafe is especially popular among the maid cafe. Its peculiarity is that this is the first such institution that opened here in 2001.
Going to the Cure Cafe is only better if you book a place in advance. Some travelers who are already familiar with Akiharaba immediately try to book a seat at Cure upon arrival at Narita Airport.
Be prepared for the fact that at Cure the staff does not speak English. If you don't speak Japanese, it's best to bring along a translator or Japanese friend.
An alternative to Cure Cafe is Madreamin. Here guests will be greeted by a relaxed atmosphere, waitresses dressed in French maids and delicious food.
The main feature of Madreamin is the ability to order the services of a waitress and maid as a guide in Akihabara. We are sure that such a tour will be remembered for a long time by any tourist.
ADMIT TUODORI STREET
Chuodori is Akihabara's main street. It is here that many shops and shopping centers are located. Here you can buy truly necessary and expensive things, but you can also become the owner of an absolutely useless purchase, some trinkets, which, however, will remind you of Japan later.
Modern markets and antique shops, Japanese souvenirs and jewelry stores, terribly expensive and affordable household goods – all this can be found on Chuodori.
ELECTRONIC WORLD OF YODOBASHI
Before electronics enthusiasts plunge into shopping at the Yodobashi store, they need to pay attention to certain features of the goods. The thing is that Japanese electronic products, including software, are exclusively available in Japanese. Therefore, deciding to make a purchase, you need to understand that for use you will have to learn Japanese.
Despite language corrections, there are huge advantages to visiting this store. First of all, a wide range of the most modern Japanese products is presented here. Here you can also try almost any product. For example, you can check the operation of an expensive Japanese lens on your personal camera. Well, consultations from Japanese experts in the field of electronics will become completely priceless. So if you value high-quality electronics, then you should be in Yodobashi.
REALIZE YOUR FANTASIES
To get to the Akihabara district, not only electronics, cosplay and cafe-maid lovers try, but also fans of all kinds of trinkets, and there are a great many of them here!
The most impressive store in the area recognized by tourists as Mandarake. Here you can find all sorts of interesting things, ranging from rare electronic games and comics for adults to unique antiques. This is truly an amazing place, especially for collectors. Here you can purchase very valuable items.
Once in Mandarake, you should definitely go around all the floors of the store, otherwise you can skip something interesting. Each floor is dedicated to a specific topic. Thus, the product is not thematically duplicated, thereby the shopping process turns into a real tour.
Tourists coming to Akihabara station say that Mandarake is a great opportunity for them to have fun and relax, remembering youth, and not just an excuse to buy something memorable. Already for the sake of such vivid diverse emotions you need to come to Akihabara.