SAKURA IN CONCRETE JUNGLE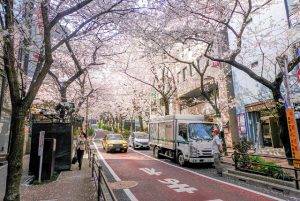 Many tourists come to Japan to enjoy sakura blossoms and take part in the khans, a long-standing Japanese tradition, when the Japanese go to parks and gardens to have a picnic with employees, friends, and their families. They walk, drink, socialize and have fun under the spreading sakura trees, thus paying tribute to the fleeting beauty of flowering and celebrating the arrival of spring.
But it is not necessary to go to such large famous parks as, for example, Shinjuku Gyoen or Ueno Park to enjoy the marvelous beauty of sakura blossoms. In Tokyo, this huge metropolis, which many people imagine as the city of the future, erected from glass and concrete, there are many streets where you can see sakura blossoming in abundance.A pleasant bonus will be the lack of crowds of tourists and vacationers, which are full of city parks. Such streets can be found in every district of the city, you only need to know where to look.
Shibuya
At the mention of Shibuya, the first thing that comes to mind is the statue of Hachiko and the Shibuya intersection, which we have already seen hundreds of times in films that take place in Tokyo. But if you go to the Western Exit of Shibuya station, you will see a beautiful slope, completely planted with sakura trees.
AKASAKA
Akasaka is Tokyo's business center, with government offices and private companies in the area. And how do you like the road along which sakura trees grow? In the spring you can take stunning pictures here. There are not so many people on the street during the day and no one will bother you to replenish your Instagram with a couple of dozens of excellent pictures.
NAKANO
The Nakano sleeping area is very popular among foreigners who either live in Tokyo or come here for the first time. Here you can also make beautiful photos of soft pink sakura against the background of a yellow train or a turquoise bridge. Photos will turn out very bright and contrasting.
ROPPONGI
The central area of ​​the city – Roppongi is famous for its nightlife. A pleasant March day here you can admire the blossoming sakura.