CHRISTMAS IN TOKYO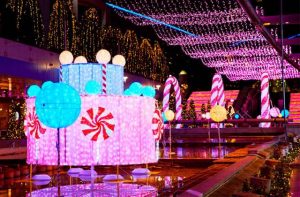 Christmas in Japan is an amazing holiday. The capital of Japan is buried in thousands of colorful lights that will warm your heart even on the coldest December evening. The magic of festive illumination transforms the look of Tokyo and can make any trip unforgettable. We can confidently consider Christmas the best time to visit in Japan!
We want to introduce you to interesting places in Tokyo that we recommend visiting in December. Dress warmly, take a camera with you and get ready to get acquainted with the mysterious world of romance and lights!
ROPPONGI
This list opens with Tokyo Midtown – a shopping complex with a huge park territory adjacent to it. The spacious lawn, located right behind the building, is an excellent venue for the Starlight Garden festival. The light presentation, which takes 5-10 minutes and is accompanied by a delightful musical arrangement, involves hundreds of LED lights and even some moving objects. The theme of the performance changes from year to year, so you are guaranteed to see a unique sight, even if you are not coming to Tokyo for the first time. Although Midtown Park is quite crowded (especially during the pre-holiday period), the lucky ones are lucky to take magical shots of park lights against the backdrop of the Tokyo Tower glowing in the distance. Thanks to the winter illumination, she looks exactly like a giant Christmas tree!
Tokyo Midtown can also be called an ideal place to buy Christmas gifts and enjoy the view of festive themed decorations. Do not forget to look at the Roppongi Hills shopping complex, where on the eve of Christmas, a variety of celebrations are held.
SIODOME
Another spectacular sight can be seen near the high-rise Caretta (Shiodome) near Shimbashi Station (JR). A small piece of land in front of a skyscraper is decorated with a carpet of mysterious blue lights. Recently, this place is gaining popularity due to the projection on the walls of the building. The theme of the visual presentation changes every year and often includes interactive interaction with visitors. Other interesting places are located next to the neighboring skyscraper called the Shiodome City Center, including an amazing tunnel twined with garlands of countless bulbs and lights. Couples can turn to a bell that predicts the future!
MARUNOUTI
The closest light show to the city center is on the shopping street Marunouti, which is known for its western style. The local Christmas holidays are annually distinguished by an enviable variety: from the wall projection, which is broadcast on an old century-old building to an open exhibition of unique moving figures. Marunouchi street is perfect for acquiring luxurious gifts or a cup of hot coffee in one of the capital's best cafes. And at the nearby Tokyo International Forum, you can take a look at a thematic three-hour show with lasers, dances and projection. It's okay if you do not have time to open it: it will go another ten days until the end of December!
ODAYBA
Here you will find Tokyo's largest Christmas tree, which is located opposite the thematically illuminated Rainbow Bridge. Venus Fort and Diver City shopping malls host various celebrations, with Christmas lights everywhere. Also in love are flocking to Odaiba. Venus Fort, whose interior is decorated in the style of medieval Italy, is especially suitable for a romantic walk. But the most popular on Christmas Eve is the Ferris Wheel (Palette Town). The line of young people who want to ride with their halves on the gondolas will be the longest of all that you have ever seen!
SHOPPING FEERIA: Shinjuku, Harajuku, Shibuya
How can Christmas do without bright and crowded shopping centers where the Japanese scour for sales and discounts on gifts? Some famous Tokyo stores, such as Lumine (Shinjuku), Omotesando Hills (Harajuku) and Parco (Shibuya) offer customers dozens of interesting entertainments. Here you can buy unique souvenirs, enjoy a Christmas dinner, listen to a live choir or simply stroll through the wastefully decorated "cities inside cities"! Children will be very happy to hug Santa Claus himself and receive a small gift from him. And outside these shopping centers you will see even more festive lights – for example, on the South Terrace; in a tunnel of garlands that leads to the western exit from Shinjuku Station; along Omotesando Street, as well as literally on every corner in Shibuya.
TOKY DISNEYLAND AND OTHER THEME PARKS
Many come to Tokyo just for the Christmas festivals at Disneyland and Disneysea. Themed holidays "Christmas Fantasy" (at Disneyland) and "Christmas Wishes" (at Disneysea) will truly be remembered to you thanks to the magical lights and spectacular fireworks.