If you have ever been to Japan in the spring, we can say with full confidence: most likely, you went to enjoy the stunning sight of blooming sakura. The sakura blossom season has been and remains one of the most attractive things about Japan. However, sakura does not bloom as long as we would like, and not everyone has the unique opportunity to admire it in full bloom. Many tourists try to make the trip to Japan as much as possible in order to capture these two to three weeks of the week, but, unfortunately, due to the unpredictability of the flowering time, not everyone can see the sakura in its full splendor. Continue reading →
Connoisseurs of ski resorts can easily call the advantages of Japanese pistes. First of all, it is fluffy and dry snow; then – relatively inexpensive prices. But many agree that most of all they miss the hot springs – onsen, which help to relax after skiing.
The jacuzzi and saunas familiar to us have nothing to do with the therapeutic and healing properties of natural onsen, the water in which is supplied from a hot spring rich in useful elements and minerals. Many open onsen allow you to bask and bask in the bath, while admiring the snow-capped mountains. Undoubtedly, this magical spectacle will bring peace and tranquility to your soul. Continue reading →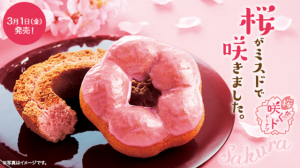 Continuing the theme of sakura blossoms, we want to share with you the sweet novelties of the season, which you should definitely try yourself and bring your friends as a gift.
DONUTS WITH TASTE OF SAKURA
Mister Donut is one of the most popular donut chains in Japan, and since March 1, they have released six sakura-style donuts. Three – in the form of sakura petals with various types of glaze and toppings from pink sakura, fried soy and azuki. And if Japanese tastes do not really interest your imagination and taste buds, try three donuts in a classic style – with ordinary sakura, chocolate and honey. Continue reading →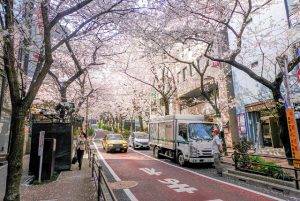 Many tourists come to Japan to enjoy sakura blossoms and take part in the khans, a long-standing Japanese tradition, when the Japanese go to parks and gardens to have a picnic with employees, friends, and their families. They walk, drink, socialize and have fun under the spreading sakura trees, thus paying tribute to the fleeting beauty of flowering and celebrating the arrival of spring.
But it is not necessary to go to such large famous parks as, for example, Shinjuku Gyoen or Ueno Park to enjoy the marvelous beauty of sakura blossoms. In Tokyo, this huge metropolis, which many people imagine as the city of the future, erected from glass and concrete, there are many streets where you can see sakura blossoming in abundance. Continue reading →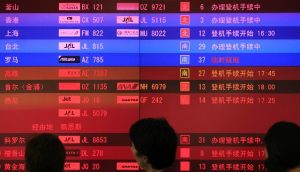 WHO CAN HELP TO APPLY FOR A VISA
Experienced tourists who have repeatedly visited foreign countries know that preparing documents for submission to the embassy is a painstaking task. It is not so simple to arrange everything independently as required by regulatory enactments. Most travelers decide to turn to specialists who will take all the mentioned chores on themselves.
Issues of visa support are now dealt with by many companies not only in Moscow or St. Petersburg, but also in other large cities of Russia. Continue reading →